There are many ways of monetization of a website or blog. People create websites for different purposes like personal blog, business, e-commerce, shop, info etcetera.
Ways of Monetization of a Website
If you create a website for blogging, you need to monetize your blog for earning. Some ways of monetization are discussed below.
1. Google Adsense
Google Adsense is one of the best solutions for the monetization of blog content. For this, you need to apply for getting approval. Before application, you have to make a beautiful and well-organized website and write quality content. No copy articles are not accepted. So, you have to write a plagiarism-free article.
2. Affiliation
Affiliation is one of the best practices for earning using a website. There are a lot of affiliation programs in the world, even in Bangladesh. You can put the affiliated links between your content or you can write a review about a product or service, then ask the people to buy.
Read More: Best Web Hosting Providers in Bangladesh
3. Publish Sponsored Post and Get Paid
If you have a qualities audience of your website, people may interested to post their blog or products' reviews to your website. A lot of websites earn in this way. Alexis from fitnancials.com says, "She earns $3K per month with sponsored posts."
4. Sell Backlinks to Others
The backlink is one of the best strategies for Off-page SEO. So, people want to get links from a good and trusted website. You can give links to others and get paid.
5. Create Membership Website
You can monetize your blog with paid membership. People need to pay you to read your articles or get service from you. A lot of paid membership websites are available that take money from consumers for their services.
6. Start a Online Academy
Teaching Online is a trend nowadays. A lot of institutions teach online. Due to the Covid-19 pandemic, this procedure of learning is becoming popular day by day.
7. Sell Digital & Phisical thing
Selling online is one of the easiest matters in today's world. Many people start a small business with the help of the internet. You can also sell digital things like PDFs, Images, PSD files, Graphic content and so on.
8. Accept Donation
You can accept donations from your visitors. It's an optional thing. People may donate to you for your awesome content or service.
9. Flip websites
If you are good at creating websites, you can sell websites. A lot of agencies are available that are ready to help you to sell your websites. Empire Flippers is one of the best websites for selling and buying websites.
10. Accept Paid Ads
You can accept paid ads manually and post them as banners or text between contents or sidebar.
11. Add "Hire Me" Option
You can add an option named Hire Me to contact you. You may be an expert in a sector. You can earn money by solving other problems.
Hopefully, these Ways of Monetization helps you to monetize your websites.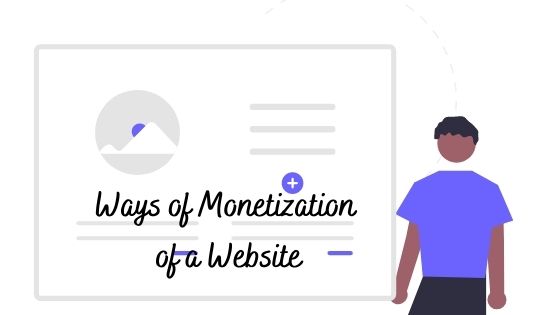 Read More